Every so often one of the kids claims a piece of 'junk' as theirs, and it instantly becomes something special, coveted by all the others.
This is DS's cardboard tube; his sisters christened it 'tubey' ( a la Sponge Bob) and tried to steal it at every opportunity. One of them even decorated it with hearts and flowers in an effort to claim it as her own but DS wasn't fooled.
Tubey began life as the inside of  roll of paper towels and was initially slung on the recycling pile to be put out for collection. But it rolled off the top of the heap, landed in front of DS and a relationship began. He hung onto it for almost 3 days, a record in this house. This photo was taken on the second day and so you can see tubey is starting to look a more elliptical than circular.
DS spent a lot of time using it as a telescope, but also liked to see if various things would fit through it. Some of his take-along Thomas trains whizzed through nicely but we did have a nasty incident when a slightly larger train got firmly stuck. For a while it looked like terminal surgery might be necessary, but I managed to perform a forceps delivery with the help of a wooden spoon.
Tubey came to an unfortunate end 2 days ago. DS must have left it on the sofa and we came home to find pieces of cardboard roll all over the living room. The Lurcher was snoozing innocently on the sofa but I have my suspicions. DS was upset and the girls insisted we had a funeral. A shreddies box ( very apt) was procured as the coffin and DD1 conducted the service. DS sniffed sadly as his friend was lowered into the rubbish bin but  seems to be working through his grief by watching Peppa Pig and playing with his trains.
However,  I did catch him unrolling paper towels yesterday, trying to get at the brand new cardboard tube in the middle so I'm expecting 'tubey 2' to make an appearance quite soon.
This post is part of The Friday Club Home Carnival. The theme this week is 'A Cherished Item'.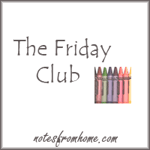 Here are the other entries in this carnival:
Making It Up gives us her favourite cherished items.
The Diary of a Frugal Family shares her family's most Special Things.
Scribbling Mum tells us about her photo wall.
Make Do Mum writes about a precious item in Tick tock tick tock.
Cheeky Wipes gives us her cherished item in Tables Aren't Just For Eating At….
Red Ted Art tells us about her DIY Hobby Horse.
Snipsnaphappy tells us about her cherished item in My Granny's needle.
I Need Curtains for the Window inside my Head writes about the pieces of jewellery that mean the most to her.
Tiddlyompompom tells us about Adopted Ted.
Freckles Family shares A treasured possession.
Notes From Home posts about her cherished reclaimed box.