This week's Friday Club theme is 'Parenting Tips'.
Here are some of mine:
If you are going to feed a baby  pureed carrot, make sure they are wearing orange.
As a parent, it is your duty to step in if you spot a disaster about to occur.
There is no 'proper' way to play with toys. Let them use their imagination.
Watch your behaviour around your children. Monkey see, monkey do.
If possible, let your child have a pet. It will teach them responsibility….and might install some fashion sense.
Tempting as it may seem at the time, don't make older children responsible for dressing their younger siblings.
Start giving children chores from an early age.
Do your best to ensure there are no hidden E numbers or artificial colours in your children's food.
Teach your children not to jump on the furniture.
And last, but not least…
Always supervise your child when there are felt tip pens in the house.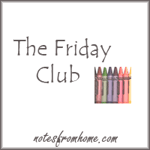 Here are the other entries in this parenting tips carnival:
Nova at Cherished by Me shares her tips in Encouraging Children to Read.
Gemma at HelloitsGemma's Blog gives us her working mum tips in This working Mummy's guide to life.
Maggy at Red Ted Art shows us how Baby Can Draw!
Chris at Thinly Spread gives us her Secret to Relaxed Parenting.
Cass at The Diary of a Frugal Family shows us how she teaches her children about other countries and cultures whilst having fun in America Day.
Helen at Cheeky Wipes gives us her tips in Fussy Eating.
Mummy Beadzoid gives us some Parenting tips for the NICU/SCBU parent.
Kelly at Domestic Goddesque shares her advice in Terrible Twos: tips for dealing with tantrums?
Ella at Notes From Home gives us her tip for encouraging children to tidy up at the end of the day.
Tiddlyompompom shares her weaning tips in her oh so helpful guide to weaning.
SouthoftheRiverMum tells us her plans to set up a Reward System at Home.
Not so single mum at Diary of a Not So Single Mum shares her advice on doing what you feel is best for your child and your family.
Jax at Making It Up discusses behavioural issues in a quandary in search of a tip.
Bod for Tea shares her advice on finding a 'helper' to encourage your child to do things they don't really like doing in Bunny says.
Hayley at Simply Hayley tells us about Hugs and Love.
Make Do Mum shares her stickability scale in Know Your Enemy.
Blue Sky at Looking for Blue Sky gives us some teenage tips.