The past few days have been all about the fight for the $17,000 mark. The bitcoin price has fluctuated around $17,000 in recent days and it is not possible to break above this with conviction. Will this still work in the coming days?
The bitcoin price is currently at 16,976.59USD. We discuss recent price developments on different time frames from high to low. On the lower time frames, we see signals that may have indicated an end to the current rally.
Bitcoin (BTC) daily chart
In recent updates, we have focused particularly on the lower time frames. It's high time to take a closer look at the bigger picture. We will start with the daily chart and will further refine our expectations using the lower time frames.
On the daily chart we are within four seconds of which direction we are going and this is still the bottom right corner. This is confirmed by the 200 MA's, which are still strongly trending downwards. The current downward trend started at the end of December 2021 and we fell below 200 MAs (black arrow). This means that we have been trading below the 200 MAs for almost a year and this is exactly what a bear market looks like.
More than three weeks ago, we broke out of a five-month long price range (black!). We then said that historically, after breaking out of a price range, bitcoin has always led to price movements of at least 25% in the same direction as the breakout.
To date, we are down (only) -16% after the outbreak. Have we seen the worst? Or will we still move further down towards the $13,000 support area that we have been eyeing for months?
When can we be cautiously bullish again on this high time frame? A first cautious reason to adjust our expectations slightly bullish is if we manage to get back into the five-month long price range, ie above $18,600. This requires an increase of almost 10% from the current price.
The moment when we can say with more conviction that something has really changed significantly is when we manage to break above the 200 MA (~$21,450) and the 200 EMA (~$23,000). From the current price, we will have to rise another 35% to get here. At that moment we break through an almost one year long downtrend. In addition, this scenario also means that we have broken out of the price range upwards. Two arguments that justify being convincingly bullish again from then on.
Obviously, we don't want to miss out on a 10% to 35% upside to conclude that we are convincingly bullish again, so we use the lower time frames for this.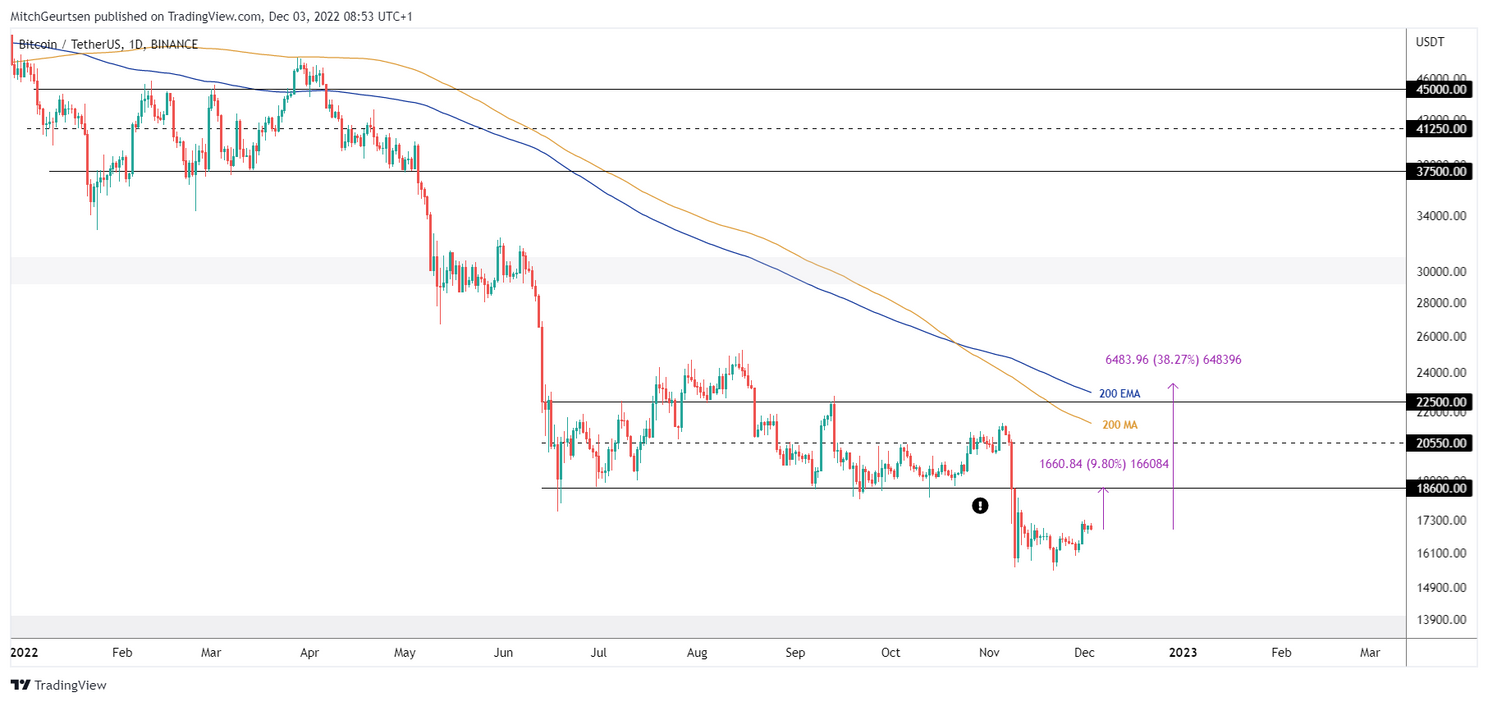 Bitcoin (BTC) 4 hour chart
In previous updates, we've covered the new three-week price range ($15,600 – $17,000) on this time frame. An upside breakout from the price range should take us further up towards the 200 MAs on this time frame.
Unfortunately, such a scenario has not materialized so far and we are currently trading just below the range high again. By forming a lower high instead of a higher high, the current uptrend begins to lose momentum.
This would mean that our brief stay above the price range will be no more than a temporary drift and a final return to the price range would take us back to the mid-range $16,300 at a minimum and perhaps even towards the low $15,600 range. Because this is what the price range analysis tells us. It should be clear that a downward breakout from the range significantly increases the likelihood that we will enter the $13,000 support area.
If instead we manage to resume the current uptrend, we will keep a close eye on the dynamic resistance of the 200 MAs. Reclaiming the 200 MAs would be a strong bullish argument. This requires an increase of 4% from the current price and this is already a lot better than the 10% to 35% increase based on the daily chart.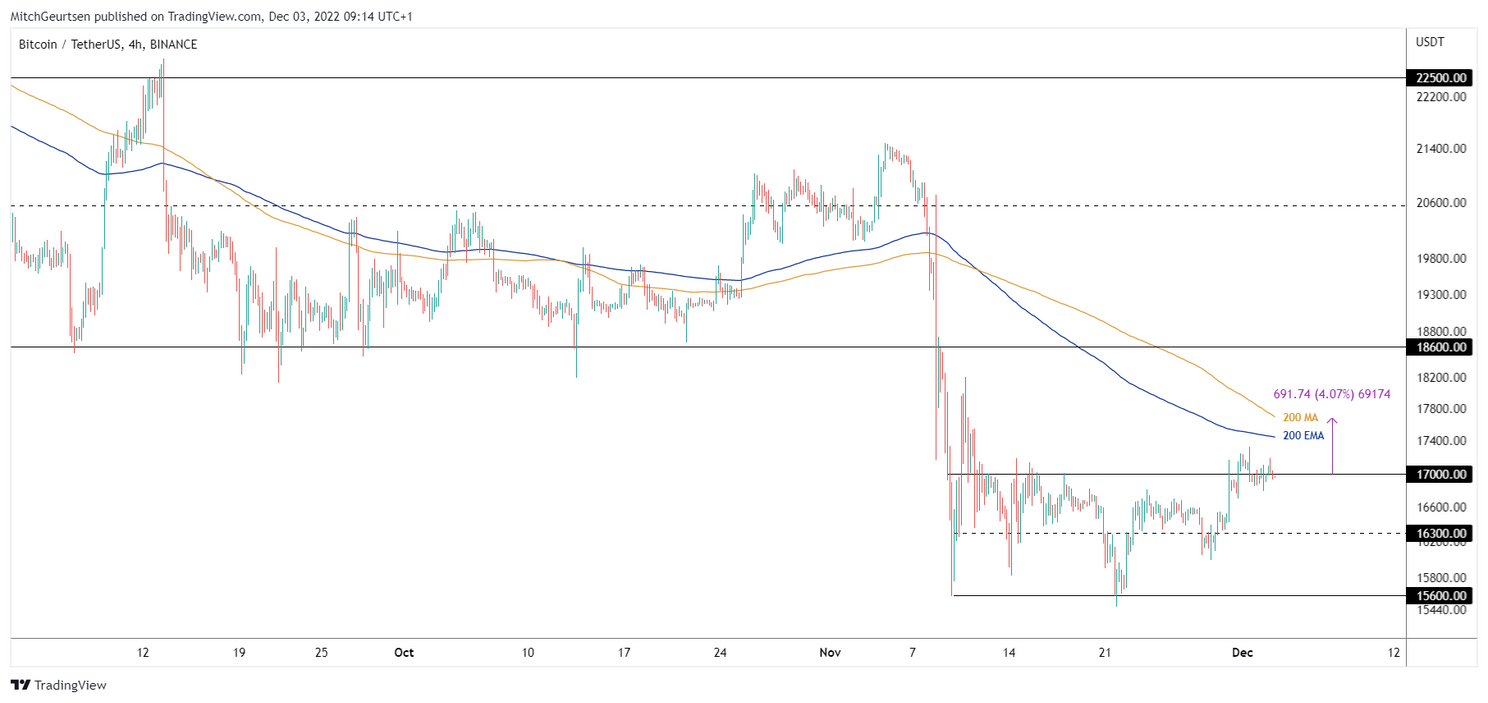 Bitcoin (BTC) 30-minute chart
Finally, we zoom in on the very local trend on this low time frame. Here we can clearly see what we just discussed on the 4 hour chart, which is that the current uptrend appears to be losing momentum.
After forming a higher high (HH) we put down a lower low (yellow circle) with the necessary support from the 200 MAs. Then a lower high (LH) and this technically means that our bullish market structure has broken bearish.
We will therefore keep an eye on the 200 MAs on this low time frame for the next few hours to days. Because when these are lost as support, this means an end to the current uptrend, we will most likely set a lower low again and, according to our price range analysis, there is a good chance that we will at least drop further to the middle of the $16,300 range.
Two key price levels to watch for the next few days on this low time frame:

1.) $17,189 > For continuation of uptrend and price range breakout.
2.) $16,790 > Bearish trend confirmed and local trend being lost 200 MAs.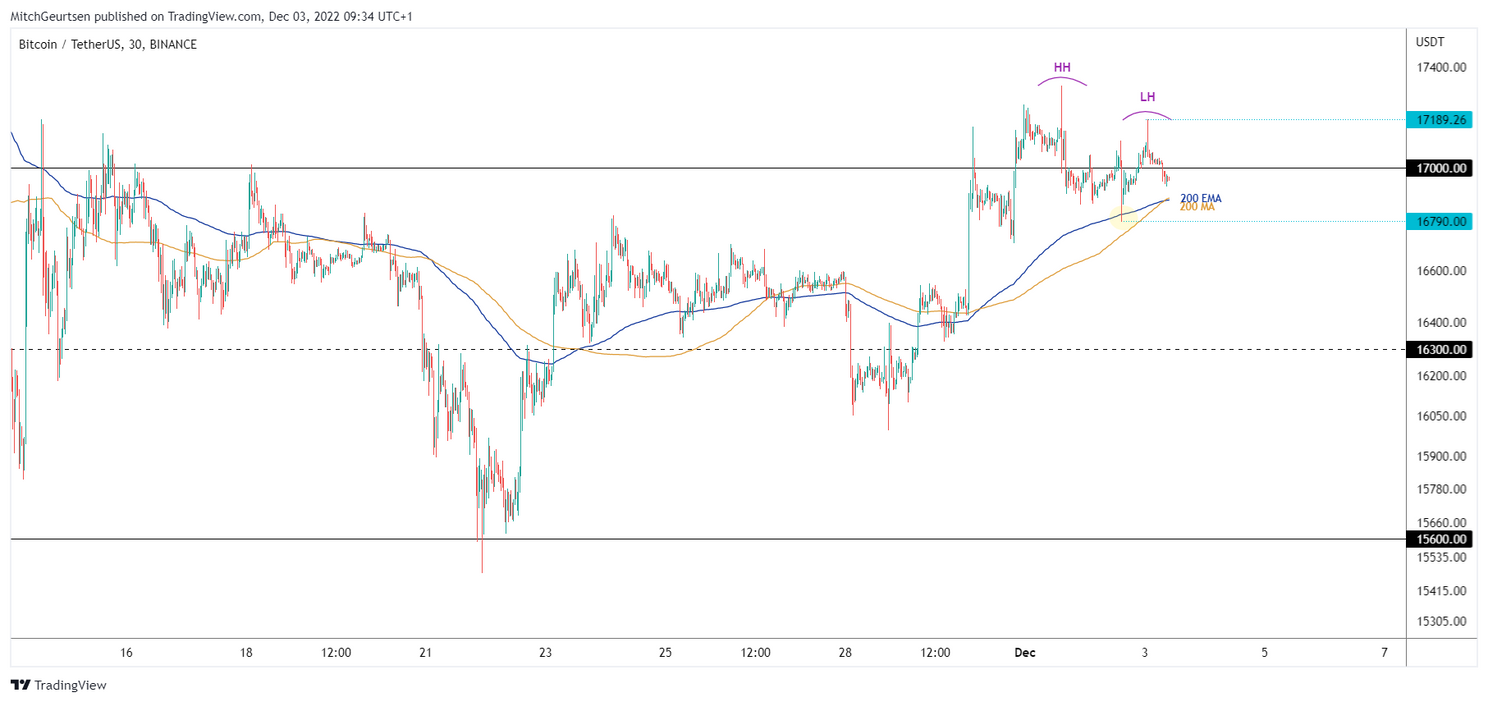 The Bitcoin Webshop of the Netherlands & Belgium
Looking for unique Bitcoin Gifts for the holidays? In the Bitcoin Webshop of the Netherlands & Belgium you will find unique Bitcoin Gifts that are not available anywhere else. Be surprised!
Fear Of Missing Out – Holiday Bestsellers:
– Bitcoin Cava | BTC 100K Bubbles | Special Edition
– Bitcoin Chocolate Letter | of the most delicious Belgian chocolate (200 grams).
– Bitcoin Christmas Rocket | 'To The Moon', Hand Blown Bitcoin Bauble Rocket
– Bitcoin Book | Our money is broken, And why bitcoin is the solution
– Bitcoin Beer | The one and only Bitcoin Beer in the Netherlands, Pilsener or IPA